At Embrace Dental Care, we use intraoral cameras to examine areas of your mouth that would be difficult to see with the naked eye.
What is an Intraoral Camera?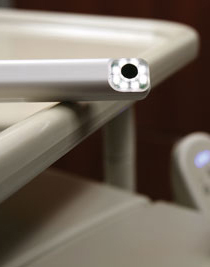 An intraoral camera is a tiny digital camera that fits inside the mouth. It provides us with high-quality images of your tooth or entire mouth that can be reviewed simultaneously on a computer screen.
An intraoral camera is a powerful dental tool that allows us to detect any potential issues and restore the health of your mouth as quickly as possible. It's also comfortable to use as it's as small as a pen and can be easily moved inside the mouth.
The camera can reach areas of the mouth that we cannot view visually. It delivers images from all possible angles, which helps us provide you with more detailed exam results.
How Intraoral Cameras Work
The camera, along with a light, is located at the tip of the intraoral wand and transmits images and videos in real-time.
The light helps give us a clear view of the inside parts of your mouth that can be hard to see. You and your dentist can view the images at the same time, helping you to better understand the condition of your oral health.
Dental conditions don't always have visual signs and not all cause pain too. This can make it challenging for patients to understand the dentist's diagnosis.
Intraoral cameras help solve this issue as you can see right away what your dentist is seeing. It's easier to make decisions on the next steps you'd like to take.
Intraoral cameras beat the traditional headlamp and mirror in detecting irregularities in the mouth. They give us detailed before and after photos that we can use in replacing fillings.
It's easy to attach the images to your files and print them out when necessary. And since they're digital, we can send them to offices or specialists you're working with, when needed.
For example, we can forward the images to the dental lab for your custom dental restorations, such as crowns.
Intraoral cameras are also helpful when you're seeking insurance claims. They help save you a lot of time!
Learn More About Intraoral Cameras
Intraoral cameras are painless, do not cause any side effects, and can also be fun to use! When you come in for your exam, we'll be more than happy to show you further how they work.
Our dental team strives to stay updated on the latest dental technology. And we're proud to be using intraoral cameras as among our basic dental equipment! Our dentist uses this tool during routine checkups and examinations.
An intraoral camera allows you to seek treatment for potential dental issues early on. It helps avoid further damage to your teeth and reduces the need for invasive and costly treatments.
To learn about intraoral cameras, call us today at (587) 355-6968. Our friendly staff will help you book an appointment with the dentist.